Montauk Beach Property Owner's Association is 77 years old this year.  We took title to what was then known as the "Ocean View Beach" on July 15, 1942 and were incorporated on June 17, 1942. The original plan for our area of Montauk — as envisioned by developer Carl Fisher — was for an 18-hole golf course.  Due to the great depression, his plans to make Montauk the "Miami Beach of the North" crumbled. Montauk Beach Development Corporation were the next owners of the property in 1926. The Mirror Holding Corporation who sold 100′ x 25′ lots for $100 each, subsequently owned the area. The Mirror Holding Corporation eventually became The Montauk Improvement Company, which today is the Tuma Agency.
When MBPOA took title to the Ocean View Beach it also took title to the building below the Montauk Manor known as the Playhouse. Yes, at one time our association owned the Playhouse. When the MBPOA was unable to maintain the building due to the cost of upkeep and taxes, it reverted back to the original deed holder.
The history of our beachfront property also shows that the MBPOA almost gave the property to the Town of East Hampton. Again, the problem was the lack of money for upkeep. However, just prior to the transfer of the property to the town, the deal was cancelled.
The MBPOA was formed so that the deed to the Ocean View Beach could be transferred to our association. For 77 years our association has been the sole stewards of our 34.9 acres of prime oceanfront property. It can not be bought, sold, or given away. Our beach, as deeded, is for all to enjoy all the time.
Because of our unique beachfront rights, MBPOA members should be aware that the value of their homes / property is approximately 20% higher than that of a similar home in almost any other area in Montauk. We are the only homeowners in Montauk who have access to our own privately deeded ocean beach right down the street. MBPOA pays taxes, insurance, and other costs to maintain the property. Our organization is also known for our active civic participation in the Montauk community. MBPOA is always alert to the environmental and other concerns that affect our area and the value of your property.
At this time, our paid membership encompasses 476 home / property owners. This reflects participation by approximately 96% of those eligible for MBPOA membership – the largest active civic association in Montauk.
I would like to thank each and everyone of you for the outstanding support you have given this association throughout the years. For new members, I would like to welcome you to the MBPOA and encourage your active participation in our association. With your involvement, the MBPOA and our ocean beach will be a source of pleasure and pride for many generations to come.
Early Montauk Beach property offers
One of the members shared this "artifact" , an offer from "The Daily Mirror" to purchase property for as little as $100 a lot.  Bring back "The Daily Mirror" offer please.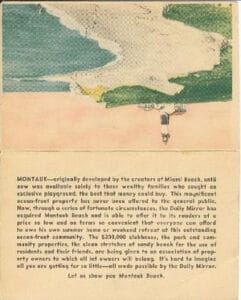 Letter from your board
Dear Fellow MBPOA Members and Families:
Welcome to the 2019 "Season". Whether your Montauk residency is permanent or seasonal, we all look forward to enjoying the beauty, mild weather, the beach and the other activities that make Montauk such a popular destination, particularly during this time of the year. While the crowds, parking problems and getting reservations can be problematic at times, for those of us who love Montauk there is still no other place we'd rather be.
MBPOA has already begun its planning for our annual Beach Party, to be held this year on Saturday, August 3th, commencing at 12:00 Noon. We are unsure at this point as to which section of the beach the party will be held. While traditionally held at Webster Beach, we had to relocate the venue last year to Arnold Beach because of unusual erosion to the east; so we will send out an advisory as to the specific beach venue this year as we get closer to the actual date. Overflow parking will be permitted on Old Montauk Highway and the side streets adjoining the beach section selected for the party. We hope to see you there. Volunteers for our morning (8:30 A.M.- 10:30 A.M.) set-up and afternoon (4:00 P.M. – 6:30 P.M.) breakdown are needed and will be much appreciated. Please contact Bob Shurman at [email protected] if you're able to assist.
We are also hoping to arrange a Cocktail Party for members this year, to likely be held on a weekend evening in September at a local Montauk venue yet to be determined. Our 75th Anniversary Party held in September, 2017 at the Montauk Lake Club was an affair enjoyed by all who attended, presenting an opportunity as well to meet and socialize with other Association members. We'll inform you of these plans as they become finalized. If you would be interested in participating in this event, we'd appreciate hearing from you.
For the first time, we have this year used e-mail to send the dues billings; though we only have e-addresses for roughly half of our membership. If you received your most recent billing/information Notice by regular mail in April, '19, that means we do not have your correct e-mail address. We ask that you please make an extra effort to provide your e-address(es) and telephone number(s) to us which will permit us to contact you electronically when necessary. It is less expensive and cumbersome for us than to resort to regular mail. Your cooperation in our efforts to secure such electronic contact information from you will make it easier for us in keeping you promptly informed and is much appreciated. And the Association has a new e-address you can use to supply that info; i.e., [email protected]. Your info will not be shared with anyone beyond the Executive Board and will only be used to permit us to contact you when appropriate. Thanks.
Finally, your MBPOA Board of Directors is committed to keeping abreast of issues involving Montauk (and East Hampton Town, generally), particularly matters that could adversely affect our members'quality of life or safety, water quality, beach erosion, aggressive economic development efforts, etc., taking a public position on such issues when deemed appropriate. Our objective in doing so will always be to preserve and protect our mutual interests, both as members of MBPOA and as residents of the wider Montauk/East Hampton community.
Enjoy the summer!
Sincerely,
MBPOA Board of Directors
By: Ed Gentner, Pres.